Celebrate.
Be amazed.
Experience.
Our current events at the Mesnerhaus and with 4-toque chef Josef Steffner.
Unforgettable events are continually on offer at our gourmet restaurant. Here you'll find all the important gourmet events at the restaurant and with Josef Steffner. Whether you're an admirer of art, a music lover, a wine connoisseur or a fan of adventure, you'll certainly find something to fit the bill. Why not register before it's too late?
Upcoming Events
Here are some amazing dates for your diary:
Celebrate pleasure with us.
24. December 2022 – Christmas Eve Dinner
December/2022
Celebrate Christmas with us during an enjoyable evening at Mesnerhaus. We'll enchant you with imaginative creations and indulge you and your loved ones from start to finish. Your Christmas Eve is guaranteed to be unforgettable - spending quality time with your loved ones in a festive ambience.
24. December 2022 - Beginning: 18:00 Uhr
EUR 198,00
with wine pairing EUR 296,00
Champagne aperitif and 5-course menu
31. December 2022 – New Year's Eve Dinner
December/2022
The Old Year couldn't end more pleasantly and the New Year couldn't start any better: look forward to our exclusive New Year's Eve Dinner and celebrate the turn of the year with an extra helping of enjoyment in Mesnerhaus.
31. December 2022 - Beginning: 18:30 Uhr
EUR 228,00
with wine pairing EUR 396,00
Champagne aperitif and 6-course menu
01. January 2023 – Kitchen Party
January/2023
Start the New Year at our exclusive Kitchen Party with starters and entrées in our winter garden, move on to the highlight - the main courses served in the hub of the restaurant, our kitchen. Then it's back to the winter garden, where you can savour your dessert and enjoy the fireworks. There's no better way to start the New Year!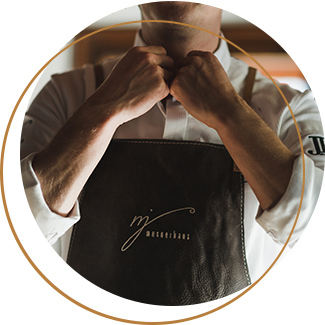 01. January 2023 - Beginning: 18:30 Uhr
EUR 248,00
including wine pairing
22. February 2023 – Fish Week from 22 till 26 February
February/2023
During our Fish Week in February we'll tantalise your taste buds with high quality salt water and fresh water specialities presented in a winning composition by Josef Steffner.
22. February 2023 - Beginning: 19:00 Uhr
from EUR 98,00
from 4-course menu including amuse-bouche
05. April 2023 – Fish Week from 5 till 7 April