Celebrate.
Be amazed.
Experience.
Our current events at the Mesnerhaus and with 4-toque chef Josef Steffner.
Unforgettable events are continually on offer at our gourmet restaurant. Here you'll find all the important gourmet events at the restaurant and with Josef Steffner. Whether you're an admirer of art, a music lover, a wine connoisseur or a fan of adventure, you'll certainly find something to fit the bill. Why not register before it's too late?
Upcoming Events
Here are some amazing dates for your diary:
Celebrate pleasure with us.
15. August 2022 – Summer Weeks
August/2022
We're celebrating summer. For two weeks beginning on 15 August we'll be open every day for you.
You can look forward to savouring Josef Steffner's regional creations and enjoying the unique atmosphere of the Lungau mountains in summer. Pleasant temperatures, long hours of sunshine and attractive opportunities for adventure - an unforgettable summer!
15. August 2022 - Beginning: 00:00 Uhr
09. September 2022 – Cookery Course with Josef Steffner
September/2022
The two-day cookery course from Friday till Sunday offers you the opportunity to cook like a pro together with Josef Steffner. You'll discover valuable tips and tricks, and conjure up an unforgettable gourmet menu, which you'll then enjoy with us.This event includes the cookery course, four-course evening meal, lunch (soup and a snack) and your gourmet meal.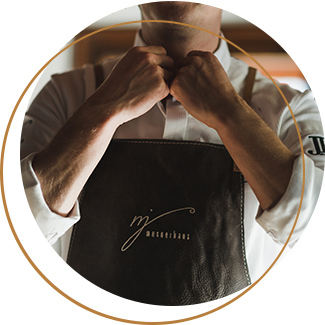 09. September 2022 - Beginning: 13:00 Uhr
EUR 288,00 pro Person | excluding accommodation
2-day cookery course incl. evening meal, snack lunch and gourmet meal
16. September 2022 – Oktoberfest
September/2022
Experience an Oktoberfest in a class of its own. Enjoy an entertaining beer tasting with Wildshut Brewery, accompanied by a perfectly matched 4-course gourmet menu created by Josef Steffner.
16. September 2022 - Beginning: 10:30 Uhr
EUR 148,00 per person
Including 4-course menu and beer tasting
05. October 2022 – JRE CHEFS ROULETTE
October/2022
More than 25 top Austrian chefs change places for a dinner brimming with surprises - in secret of course. Who is cooking where remains hush-hush until the meal begins. A fantastic experience for connoisseurs as only one thing is certain: the real hosts are not at home, they're demonstrating their talents elsewhere. Instead, one of the other multi-award winning JRE chefs will captivate the guests. Once again, Mesnerhaus is involved, and we're already curious to know who's coming to us and where Josef's going.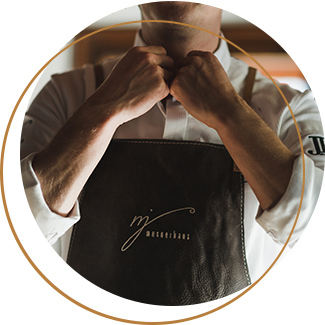 05. October 2022 - Beginning: 17:00 Uhr
Cost to follow.
29. October 2022 – Fashion & Enjoyment
October/2022
Pure pleasure for all enthusiasts of fashion and enjoyment. This evening everything focuses on things that benefit the soul. Not only is the 4-course menu created by Josef Steffner a feast for the eyes, you also have the opportunity to experience the wonderful range of fashion designed by Michaela Feysinger.
29. October 2022 - Beginning: 17:00 Uhr
EUR 98,00 per person
Including 4-course menu with amuse bouche and fashion show
01. November 2022 – Celebrate Christmas in November
November/2022
Plan your company's Christmas celebration in Mesnerhaus, our 4-toque restaurant, where Josef Steffner will indulge your staff with his creations. Experience an unforgettable Christmas celebration. Accommodation can be provided in our up-market rooms just a few steps from the restaurant, enabling you and your staff to really enjoy a wonderful Christmas celebration. Simply make an enquiry and we can advise you on the planning and organisation of the event.
For a stress-free, relaxed, enjoyable Christmas event we would recommend the period from 1 till 30 November.
01. November 2022 - Beginning: 19:00 Uhr
Christmas celebration for companies, clubs and groups
Costs on request
24. December 2022 – Christmas Eve Dinner
December/2022
Celebrate Christmas with us during an enjoyable evening at Mesnerhaus. We'll enchant you with imaginative creations and indulge you and your loved ones from start to finish. Your Christmas Eve is guaranteed to be unforgettable - spending quality time with your loved ones in a festive ambience.
24. December 2022 - Beginning: 20:00 Uhr
EUR 198,00
with wine pairing EUR 296,00
Champagne aperitif and 5-course menu
31. December 2022 – New Year's Eve Dinner
December/2022
The Old Year couldn't end more pleasantly and the New Year couldn't start any better: look forward to our exclusive New Year's Eve Dinner and celebrate the turn of the year with an extra helping of enjoyment in Mesnerhaus.
31. December 2022 - Beginning: 17:30 Uhr
EUR 228,00
with wine pairing EUR 396,00
Champagne aperitif and 6-course menu
01. January 2023 – Kitchen Party
January/2023
Start the New Year at our exclusive Kitchen Party with starters and entrées in our winter garden, move on to the highlight - the main courses served in the hub of the restaurant, our kitchen. Then it's back to the winter garden, where you can savour your dessert and enjoy the fireworks. There's no better way to start the New Year!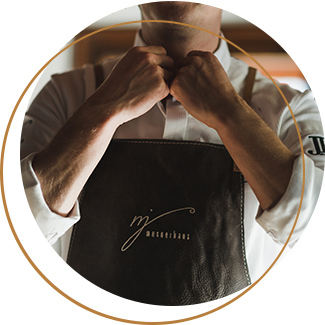 01. January 2023 - Beginning: 19:00 Uhr
EUR 248,00
including wine pairing
22. February 2023 – Fish Week from 22 till 26 February
February/2023
During our Fish Week in February we'll tantalise your taste buds with high quality salt water and fresh water specialities presented in a winning composition by Josef Steffner.
22. February 2023 - Beginning: 19:00 Uhr
from EUR 98,00
from 4-course menu including amuse-bouche
05. April 2023 – Fish Week from 5 till 7 April